MIKE DASKI REMEMBERED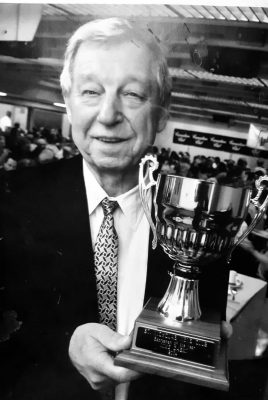 The Manitoba Hockey Hall of Fame received the sad news that Honoured Member Mike Daski passed away on December 23, 2021 in Reichersbeuern, Germany.
Mike Daski began his career as a hockey player with the Winnipeg Black Hawks from the Manitoba Junior Hockey League . He then went to Great Britain , where he joined the Ayr Raiders in the Scottish National League . He then played for the Harringay Racers in the English National League , and the Kelowna Packers in the Okanagan Senior Hockey League .
In the following years, the Canadian with Ukrainian roots played for the Philadelphia Palcons from the Eastern Hockey League , the Earls Court Rangers from the English National League and the Sydney Millionaires from the Maritime Major Hockey League , as well as the Saint John Beavers from the New Brunswick Senior Hockey League .
Daski later returned to the UK, where he played for the Paisley Pirates in the Scottish National League and the Brighton Tigers in the Autumn Cup . With HC Diavoli Rossoneri Milano , he finished third in Serie A in 1954 .
As a trainer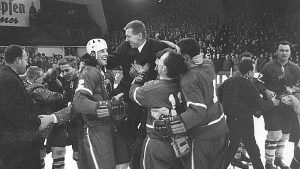 As a coach, Daski won the Canadian Senior Allan Cup title with the Winnipeg Maroons. He worked for a long time, especially in Germany. There he was under contract with TuS Holzkirchen, with whom he achieved promotion to the ice hockey league in the 1968/69 season. He was also active as head coach in the ice hockey Bundesliga for the Augsburger EV , SC Riessersee and EV Landshut . With SB Rosenheim he became league champions. He also had engagements at EHC 70 Munich , ESV Kaufbeuren , Berliner SC , EHC Straubing ,SV Bayreuth , GEC Nordhorn , VER Selb , with whom he was promoted to the league in the 1991/92 season , and the ERSC Amberg .
In Austria he was with HC Salzburg and EC Graz , in Switzerland with EHC Kloten and HC Montana , in the Netherlands with Tilburg Trappers and Eaters Geleen , and in Italy with HC Merano . During his time at Merano he was named Trainer of the Year.