JOHN GORDON "Gordie" KERR 5/8/1923 - 9/22/2021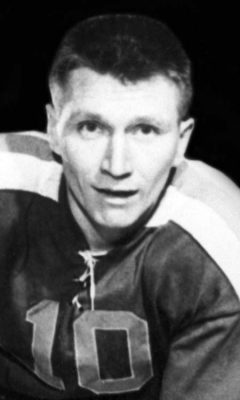 John Gordon "Gordie" Kerr
May 8, 1923 - September 22, 2021
John Gordon "Gordie" Kerr aka "Papa Rock" was a jokester at heart and a loving Husband, Father, Grandfather, Great-Grandfather, Uncle and Friend. He left this world on Wednesday, September 22, 2021 at the age of 98. His stories and his sense of humor will be dearly missed. He never met a stranger and loved telling (the same) jokes to a new audience. He was long known as the only man in Oregon who knew how to make a figure 8 on ice skates the hard way (two 4's). Papa Rock was a professional hockey player in the Pacific Coast League from 1948 to 1956. This is where he picked up the nickname "Rock".
Papa Rock dearly missed his beloved wife Pat (Huenergardt; dod 2019) aka Grandma Bubbles. They celebrated 70 years of marriage on January 20, 2019 prior to her passing. Rock was born in Winnipeg, Manitoba, Canada on May 8, 1923, to parents Sarah Sinclair and John Duncan Kerr. Both of his parents immigrated from Scotland to Canada as young teens. As a member of the Royal Canadian Air Force and the British Royal Air Force in World War II, he served in London as a tail gunner in British Lancaster bombers. He became a proud citizen of the United States in 1958.
He is survived by his loving children: Sarah Kerr-Daly, John Kerr and Jackie Kerr Hammond (husband, Bryan Hammond); his beloved grandchildren: Stacia Hood (partner Randy Shafer) and Emily Carroll (partner, Tim Dolan), Ian Kerr (wife, Jessica Kerr) and Eamonn Kerr-Daly: 4 great-grandchildren; Clair and Patrick Carroll, and Karlo and Tessa Hood: nephew's Jeff Rude (wife, Joanne), Stu Rude (wife, Gayle), Scott Rude (wife, Lori) and niece Janet Erwin (husband, Matt) along with many extended family members.
To read a complete obituary of this "Loving Man", please visit Musgroves website at musgroves.com.
Posted online on December 03, 2021
Published in The Register-Guard