Jim Hargreaves May 2, 1950 - June 30, 2020
The Manitoba Hockey Hall of Fame was saddened to receive word on the passing of Jim Hargreaves. Jim was a rugged top defenceman with the WCHL Winnipeg Junior Jets for two seasons in 1968/69 and 1969/70. His play caught the eye of the Vancouver Canucks who selected him in the 1st round of the 1970 NHL Entry Draft.
May 2, 1950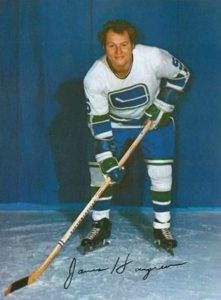 - June 30, 2020
It is with profound sadness that we announce the passing of James (Jim) Albert Maurice Hargreaves on Tuesday June 30th, 2020, at West Coast General Hospital, after a long and courageous battle with Parkinson's Disease.
Jim will be greatly missed by his wife of 48 years, Marilyn, his daughter Jana, son Jamie (Ashley), his beloved grandchildren Taylor, Katelyn, Emme, and James, and his brothers Bob, Bill (Pam), and Tim (Lynn). He will also be sadly missed by extended family members Don, Heather, Sarah, Ryan, and Tom.
Jim was born in Winnipeg, Manitoba on May 2, 1950. He was an active toddler, child and teen playing hard any chance he could get with his brothers Bob and Bill. Jim grew to be a gifted athlete and was afforded many opportunities owing to his physical prowess. In 1970 he was drafted 16th overall to the Vancouver Canucks of the NHL. What followed was an adventurous 6 years of professional hockey, playing for teams in the NHL, AHL, and WHA. Jim was known as a physical player, a fierce competitor and a great teammate. In April 1972, following his time with the AHL Rochester Americans, he had a chance encounter with the love of his life Marilyn. True to his character, Jim knew he was in love and proposed within 3 weeks.
Jim retired from professional hockey in 1976, and with Marilyn and their baby daughter Jana, began a new life in the Alberni Valley. It was in these early years in the Valley that Jim met his lifelong buddies Dan and Ben. They quickly taught him the ways of the West Coast spending countless hours down the canal fishing and building memories for a lifetime. After a short stint at Alberni Engineering, Jim settled into a career in the woods, a job he would do for over 25 years, forging some great friendships along the way. He loved being outside and the camaraderie of working in the woods with the guys. Upon retirement, Jim could be found riding his bike around town with his four-legged companion Mike at his side.
Jim was a family man through and through, when he wasn't working, he volunteered his time coaching his kids' softball, soccer, and hockey teams. He also volunteered his time speaking to at-risk youth and took a keen interest in helping less fortunate kids. He would often buy sports equipment for kids or would show up at their house to take them to their game or practice. He was a tough coach, but he was fair, and instilled a spirit of teamwork and competitiveness on the field and in the rink. Jim was all heart, had an infectious smile and was always ready for - and often the instigator of - a good laugh. We will miss him dearly.
His family would like to thank those involved with Jim's end of life care, Drs. G. DePape, E. Smit, W. Johnson, and the nursing and care staff at WCGH. A special thank you to the staff at Echo Village, who took care of Jim as one of their own for the last year and a half. Honoring Jim's request, there will be no memorial service. Donations in memory of Jim to the Fir Park Village / Echo Village Foundation or Ty Watson House are greatly appreciated