GEORGE ROBERTSON May 11, 1927 - Jan 9, 2021
After a life well-li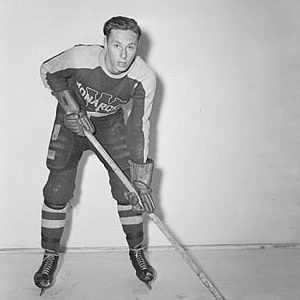 ved, peacefully George passed away in his 94th year, due to COVID-19, in the St. Boniface Hospital.
George was the loving husband of the late Vi Robertson, the amazing and proud father of daughters, Susan Robertson (Frank Bevilacqua) and Pamela Heintz (Bruce Heintz), and loving grandpa of Lauren and Thomas Bevilacqua. George was predeceased by his brother David Robertson and was also the uncle to several nieces and nephews across the country.
George (affectionately known as Pudger) was born in Winnipeg which he loyally called home for his entire life. He loved East St. Paul, where he and Vi built the family home 65 years ago along the Red River. George was able to live in the family home until he was recently hospitalized thanks to the strong love and support from Pam and Bruce, who lived very nearby. He always said that his "riparian lifestyle" suited him perfectly.
At a young age George enjoyed a successful professional hockey career, playing for the Montreal Canadiens among other teams before joining what would become Labatt's Brewery. He moved on to other successful roles but continued to remain connected to Labatt's via annual curling and golf tournaments. Whether he played in Montreal or New York, he often recalled fondly his time spent playing for the Sidney Millionaires in Cape Breton. While his professional hockey and business career afforded him opportunities to travel and live in various cities across North America, he never wanted to relocate permanently and remained a fiercely proud Manitoban.
George was recently informed by the Montreal Canadiens that, as a member of the family for the past seven decades, he was the most senior member. Geoff Molson wrote: "As a Memorial Cup hero in 1946, you certainly made your presence felt in Montreal when, in just your second game with the franchise, playing alongside Rocket Richard and Elmer Lach, you recorded your first goal as a Hab on opening night 1948 to 1949, three minutes into the game. It may have happened over 70 years ago, but it remains one of several memorable moments in Canadiens history...."
George befriended and helped many, truly from all walks of life, throughout his full life. A Mason, a Shriner, and musician, George spent many years volunteering, including for the Heart & Stroke Foundation. For friends, he would pick them up weekly and drive them around Winnipeg for various appointments and errands.
An avid outdoorsman, George could not wait for every fall to roll around so that he could spend time at the Plumas Hunting Lodge he and seven close friends built in Southwestern Manitoba. Bird hunting was a passion and many a good time were had with close friends from across Canada, and locally, who each year assembled in Plumas for opening day. The lodge will continue through his good buddy Doug Price who checked in frequently with a special sweet treat and took on many appointment shuttles to support George over the past several years.
A raconteur par excellence, George endlessly entertained family and friends with stories from his life's journey. Regrettably, George recently suffered a mild stroke for which he was hospitalized, and contracted COVID-19. We are so fortunate to have had him play an important part in our lives for so many years and he will be missed by many, especially his family.
Should anyone wish to make a donation in memory of George, you may choose to do so to his favourite charities the Heart & Stroke Foundation of Canada or Ducks Unlimited Canada.