DON KURYK STEPPING DOWN AS PRESIDENT OF MANITOBA HOCKEY HALL OF FAME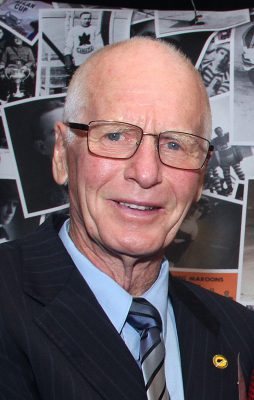 After a 9-year run as President of the Manitoba Hockey Hall of Fame, Don Kuryk will be stepping down as President as of December 31, 2022.
During his tenure as the MBHHF lead starting in 2014, Don oversaw 4 Induction dinners and a number of accomplishments and changes for the MBHHF.
He guided the organization through the difficult Covid pandemic, partnering with The Winnipeg Foundation to establish a Manitoba Heritage Trust Fund to assist the MBHHF scholarship programs in being maintained.
The Ed Sweeney Memorial Awards & Grants acknowledging excellence in the research and writing on Manitoba's hockey heritage was introduced in 2015.
In 2016, the MBHHF introduced the Manitoba Hockey Heritage Award. In partnership with Sigfusson-Northern this award provides $10,000 in support to hockey communities throughout the province.
In 2018, the MBHHF undertook a major upgrading of its display case on the 2nd floor of the Bell/MTS Iceplex with the installation of an interactive touchscreen and renovation of the display.
In partnership with the MBHHF,
December 20th
, the date of the first organized hockey match in Western Canada, was designated as Manitoba Hockey Heritage Day by the Province of Manitoba.
2022 was busy with the October Induction dinner and with the recent installation of the Canadian Commemorative Events plaque at the First Lutheran Church on Victor Street, recognizing the 1920 Winnipeg Falcons Olympic Gold victory at Antwerp.
On
December 9
, 2022 Don will attend a special event on behalf of the MBHHF with the renaming of the St. James Civic Centre Arena to the Ab MacDonald Arena.
The Manitoba Hockey Hall of Fame wishes to thank Don Kuryk for his steady leadership as President. Thank you Donny!