DAVE RICHARDSON - December 11, 1940 - December 27, 2022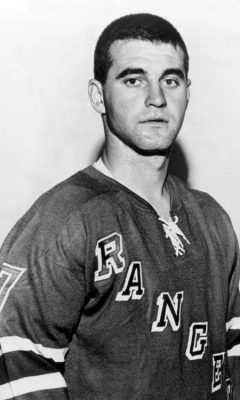 DAVID GEORGE RICHARDSON
December 11, 1940 - December 27, 2022
Maybe you've heard of
David George Richardson.
Very few of you saw David as a young boy playing hockey - endlessly, in borrowed goalie skates that were two sizes too big - right on the icy St. Boniface Street under the streetlight in front of his childhood home.
Years later, more of you might have read the headlines about 'fiery' Davey Richardson, a 5'8'' left-winger for the Winnipeg Rangers in the Winnipeg Junior Hockey League in the 1950's and 60's. Most of the stories about him shared the tenor of the following:
This was Dave Richardson's night at the Olympic rink. The Ranger winger reached his most glorious heights [hat trick] of the Manitoba Junior league season and then tarnished his fine display by participating in a wild last-minute brawl which earned him an eventual game misconduct penalty.
Hey. It was a different time.
Despite, or perhaps because of, his fiery nature, little Davey Richardson made it all the way to the Big Apple to play for another Ranger team. We know he always remembered his first NHL goal against Johnny Bower and the Leafs! Boo Leafs! (Sorry, it is obligatory to say this in Winnipeg.)
In the NHL (with the Blackhawks and Red Wings as well) he got the attention of the likes of Bobby Hull, Stan Mikita, and a certain Gordon Howe. Howe, described at the time by Stan Fischler as "the surgeon general of the Detroit Red Wings," apparently attempted to perform surgery upon the young Winnipegger.
Maybe, after Dave's professional skates were hung up, you bought a pair of your own from him (in the correct size) from MGM Sporting Goods on Portage Avenue where Dave was co-owner and manager.
Perhaps you remember a permed-up Dave Richardson as the color commentator on The Jet's on CKND or Hockey Night in Canada in the 1980's?
Hey. It was a different time.
Maybe you knew him as David, Davey, or Dave, but we knew him best as 'Dear Old Dad'. We remember family road trips to Grand forks and Fargo ("Holiday Inn sign!"). We remember magical Christmas mornings when the bottom of the tree could not contain Dad's generosity. We remember wonderful friendships and summer fun at Grand Beach. And we remember so much more.
We are Wom', Gordo, and Boomer (Lynne, Gord, and Murray), and we want to say goodbye, Dad. You were a warm, funny, and infinitely generous man, and you will be missed terribly.
Go wide, Davey. Go wide.
Career Stats
Born: December 11, 1940
Died: December 27, 2022
Immediate Family: Lynne, Gord (and his wife Lisa), and Murray
Parents: Anna and Phil
Siblings: Kenneth, Donald, Roy, Phyllis, Barbara, and Barry.
The family would also like to express their immense gratitude to the team at Deer Lodge Center T3 for their loving care of David over these past few years.
A celebration of Dave's remarkable life will be held on Thursday, January 5 at 1:00 p.m. at Cropo Funeral Chapel, 1442 Main Street. All are welcome to contribute condolences or share memories on the tribute wall on this site.
As published in Winnipeg Free Press on Jan 04, 2023