D'Arcy Bain/Fred Stevenson Award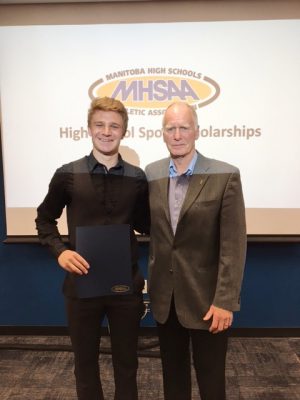 The D'Arcy Bain/Fred Stevenson Award is named in honour of long time hockey coach Fred Stevenson of St. John's Ravenscourt, and the $750 scholarship is sponsored by local physiotherapist D'Arcy Bain. Skylar Diamond-Burchuk of
Kelvin High School - Skylar was team captain, and lead all defenseman in regular season points. He was selected to the Winnipeg Sun's Top Ten, the Platinum Division All-Star Team, and the Manitoba High School Hockey Elite Team.
He maintains an academic average of 92% while also participating in track and field, and cross country. He also participated at the 2017 Ice Cross Downhill World Junior Championships. Skylar is a Grade 9 mentor and organizes and runs Grade 9 orientation day.
He is Master of Ceremonies for Kelvin Media Events, played the lead role in the schools musical, is a member of the school choir and band. He volunteers for Habitat for Humanity and assists at special events at his local community center.