BILL BUREGA MARCH 13, 1932 - AUGUST 23, 2020
BUREGA, William (Bill)
March 13, 1932 - August 23, 2020
On Sunday,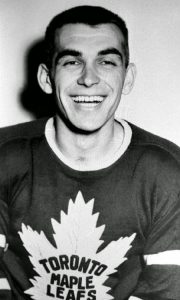 August 23rd. Bill, beloved husband of Beth (Bradley), his loving wife of 65 years. Bill was the much-loved father of three sons: Rick (Joyce); Dan (Laurie); Joel (Clarence), and cherished "Poppa" of four grandchildren: Matthew, Hannah, Bradley, and Kimberly Burega. Bill was born and raised in Winnipeg, the son of Sam and Teena Burega. He was predeceased by his parents and brother Mike. Also survived by two nephews: Charles and Paul Burega, and his sister-in-law, Shirley Pratt (Hugh).
Bill and Beth met in Ottawa when Bill was playing hockey for the Senators, and Beth was a newly-graduated nurse from Ottawa Civic Hospital, and they were married shortly after. Bill's hockey career started in Winnipeg, where he played for the Memorial Cup with the Monarchs. His professional hockey career spanned 13 seasons, playing for several teams from Glace Bay,N.S. to Vancouver, B.C. in Canada, including a stop in Toronto with the 1956 Leafs, and a Canadian championship in Winnipeg with the Warriors, and from Pittsburgh,Pa., where his 1955 Hornets won the AHL Calder Cup, to Los Angeles Ca. in the U.S. He also captained the Kingston Aces 1967 Senior A championship team, that went on to represent Canada at the 1968 Spengler Cup in Davos, Switzerland.
Bill and Beth owned and operated tourist businesses for thirty years; first cottages at Lower Beverly Lake, then a campground at Loughborough Lake. Bill enjoyed spending time with his sons, encouraging and supporting their hobbies and other pursuits, and enjoying games and activities with his grandchildren at the lake, as well as, fishing and re-finishing antique furniture. In retirement, Bill and Beth enjoyed spending the coldest winter months on Florida's gulf coast for a number of years.
Bill was a humble, generous, and easy-going guy, with a good sense of humour, as well as, a great husband, father, grandfather, and friend. He will be deeply missed by his family, and friends.
A private family service and interment of ashes will take place in Christ Church cemetery, with Canon Blair Peever officiating. Donations in Bill's memory to Partners in Mission Food Bank, or to a charity of your choice, will be appreciated by the family. Condolences can be sent to www.cataraquicemetery.ca