BILL BOND November 1, 1944 - August 8, 2020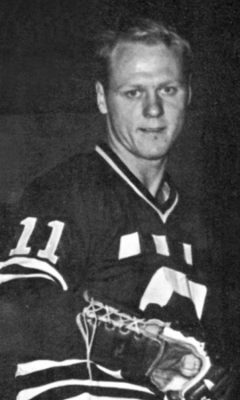 WILLIAM (BILL) FREDERICK BOND 
After a short illness, this happy gentle giant got the call up to join the hockey team in the sky. He is survived by his loving wife Susan of 39 years, son Joby & wife Kimberly, 3 grandchildren Julia, Ev and Grey in Burlington, Ontario. Brother-in-laws Lou Koldy (Winnipeg), and Hugh Chatfield (Mary) in Ottawa, special niece Louann Heieie (Bill) in Winnipeg, plus many nieces and nephews throughout the country. Bill was predeceased by his mother, father and sister June.
Bill's love of hockey was evident throughout his career. He played junior with the Winnipeg Monarchs and then with the Brandon Wheat Kings. He played 10 years in the IHL mainly in Columbus Ohio for the Checkers, Seals and Owls. After hockey, he joined Bell Canada as a splicer. He retired early and was lucky to travel with Susan throughout North America, Caribbean and Europe. He was a member of the Millcroft Golf Club where he enjoyed great times and good friends. On return to Winnipeg, he loved his Saturday "safety meetings" with his friends from hockey to share many stories, laughs and fun with the boys. Bill was recently inducted into the Manitoba Hockey Hall of Fame as a member of the champion Flin Flon Warriors.
His happy smiling face will be missed by all who knew him. Cremation has taken place. There will not be a formal service. In lieu of flowers, a donation to any Minor Hockey Association in Manitoba; or to the Winnipeg Humane Society; or Craig Street Cats in Bill's name would be appreciated. Many thanks to the great staff at HSC - GD2 for their great care and compassion.