Al Johnson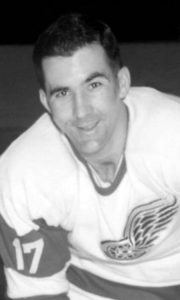 ALLAN JOHNSON 1935 - 2019 The Johnson family sadly announces the passing of Allan, on February 7, 2019, in Calgary, AB. He is survived by his wife of 53 years, Gail; sons, Craig (Audra), Murray, Bryan (Reva); grandchildren, Kendra, Ben, Sydney; many cherished nieces and nephews. He was predeceased by his sister Milly and brother Bill. Celebration of Life to be held at a later date. Donations in Al's memory to Foothills Country Hospice, P.O. Box 274, Okotoks, AB T1S 1A5 would be appreciated, or a charity of choice
A reliable forward, Al Johnson played one full NHL season and parts of three others between 1956 and 1963. He also enjoyed success with the Winnipeg Maroons as an amateur as well as in the minor leagues.
Johnson starred with the St. Boniface Canadians of the MJHL. After leading the league in assists in 1953/54, he headed for Quebec suiting up with Trois Rivieres Flambeaux and the Montreal Royals.
He returned home briefly in 1955, averaging over two points per game for the Souris Elks in Manitoba's Big 6 circuit. While toiling for the IHL Cincinnati Mohawks, Johnson filled in for an injured Bernie Geoffrion, for two games for the Montreal Canadiens in 1956-57.
His consistent scoring ability in the IHL, QHL, and WHL for four seasons earned Johnson an opportunity with the Detroit Red Wings for the 1960/61 season. He scored 37 points in 70 games playing mostly with Norm Ullman and Leo Labine. After splitting the 1961-62 season between Detroit and the AHL's Hershey Bears, Johnson was relegated to the minors for all but two games.
Johnson returned home to join the Senior Winnipeg Maroons in their successful quest for the 1964 Allan Cup. The next year he scored six points in seven matches as the Maroons won a bronze medal for Canada at the World Championships. After another year with the national team program he would retire briefly in 1966. He would return to the minors for two more productive seasons before retiring for good in 1969.