AB McDONALD ARENA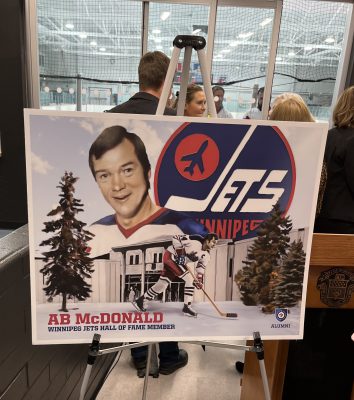 Spearheaded by Manitoba Hockey Hall of Fame President Don Kuryk, the St. James Civic Centre was recently re-named the Ab McDonald Arena, recognizing one of Manitoba's great ambassadors for the sport of hockey.
The Manitoba Hockey Hall of Fame along with the City of Winnipeg, True North Sports & Entertainment and the McDonald family patiently worked through ongoing renovations to the Civic Centre and the covid pandemic.
True North donated two murals featuring images, stories, and statistics from McDonald's decades-long professional hockey career culminating with his time as a Winnipeg Jet.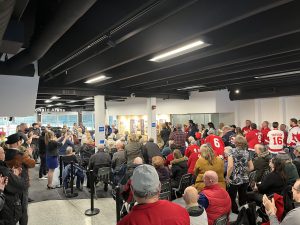 "Ab McDonald is one of the true legends of hockey in Winnipeg," said Mayor Scott Gillingham. "He was a four-time Stanley Cup Champion, he scored a Cup-winning goal in 1961, and he was the first-ever captain of both the Pittsburgh Penguins and the Winnipeg Jets. Renaming this arena is a fitting honour for someone who represented this city with great class throughout the hockey world, andthese displays will share his story with future generations of players."