Colton Veloso; 2022 recipient of the R.A "Sam" Fabro Scholarship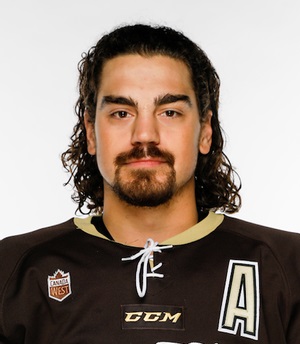 The Manitoba Hockey Hall of Fame is pleased to announce that Bison hockey forward Colton Veloso is the 2022 recipient of the R.A "Sam" Fabro Legacy Scholarship.
Colton is a consummate teammate who does the little things right to help his squad succeed. Whether it's blocking shots, playing on special teams or being a playmaker, Colton exemplifies what it's like to play a 200-foot game. In his Bison career, he's tallied 42 points in 66 regular season games as a top-line forward.
An alternate captain for Manitoba who's currently enrolled in the Faculty of Arts, Colton's vast experiences in the game have helped him to be a role model and guide to others. He has over 200 games of WHL experience under his belt and has also played in the ECHL. In the locker room, he is approachable and genuine, helping to foster a character-driven locker room where each player cares for one another. Colton is also involved in the community, helping his team at the Christmas season with hamper drives, as well as with other initiatives.
A quote from Bison Head Coach Mike Sirant;
"The Bison Men's Hockey program is very grateful to the Manitoba Hockey Hall of Fame for their ongoing support through the R.A "Sam" Fabro Legacy Scholarship. Colton Veloso is an excellent recipient of this award as he possesses the same attributes as did Mr. Fabro; a competitive and talented athlete who has a passion for sport, who cares about his teammates and community, and has fun playing the game!"