Join Ty Dilello for the launch of Mosienko: The Man Who Caught Lightning in a Bottle
On Wednesday October 27, 7:00 pm CDT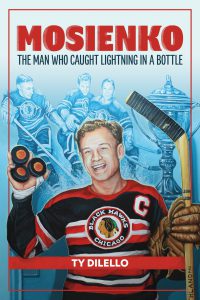 (Great Plains Publications) in the Atrium of McNally Robinson Booksellers, Grant Park. The event will also be broadcast live via YouTube.
* To view the launch, please click HERE.
Hosted by Jordy Douglas, the launch will be hosted live in the Atrium of McNally Robinson Booksellers, Grant Park and also available as a simultaneous YouTube stream. The video will be available for viewing thereafter. In person, hybrid events feature limited capacity. Arrive early to be assured of a seat. Doors open at 6:00 pm. Double vaccination status and masks required. Before arriving, please review details of how to attend physical events here at the store.


Mosienko became a hockey legend in 1952 when he recorded the fastest hat-trick in NHL history --a record that stands to this day. This biography tells the story of a Manitoba legend, from his childhood spent skating on the rinks of Winnipeg's North End in the 1920s and 30s to his illustrious fourteen-year NHL career to his return to Winnipeg to play with the Winnipeg Warriors to his post-retirement career as the owner of the iconic Mosienko Bowling Lanes.
Through exclusive interviews with Mosienko's friends, family, and teammates, Dilello paints a vivid picture of Mosienko, a man known for his sportsmanship and community spirit as well as his incredible hockey talent.
Ty Dilello is the author of Golden Boys: The Top 50 Manitoba Hockey Players Of All Time. He is an accredited writer with the International Ice Hockey Federation (IIHF) and is a member of the Society for International Hockey Research (SIHR). He has been a hockey fan since Peter Bondra led the Washington Capitals to the Stanley Cup Finals in 1998. Ty plays extensively on the World Curling Tour in the winter and can probably be found on a tennis court during the summer months. He lives in Winnipeg.
Jordy Douglas is a former professional hockey player from Winnipeg who played 268 games in the National Hockey League and 51 games in the World Hockey Association. He played for the Hartford Whalers, Minnesota North Stars, and Winnipeg Jets.