2022 Ed Sweeney Award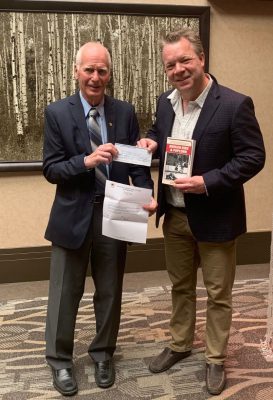 The Manitoba Hockey Hall of Fame is pleased to award the 2022 Ed Sweeney Award to Geoff Kirbyson for Broken Ribs & Popcorn, '
How the Winnipeg Jets became the best team in the NHL's most offensive era to never win the Stanley Cup'
.
The Winnipeg Jets were decimated when the WHA merged with the NHL in the spring of 1979, losing most of the players who led them to the team's third AVCO Cup victory that spring - Kent Nilsson, Terry Ruskowski, Rich Preston, Kim Clackson and Barry Long. They were only able to protect two skaters - Morris Lukowich and Scott Campbell - and a single goalie, Markus Mattsson. General manager John Ferguson used a patchwork of players for the first couple of years but after drafting Dave Babych No. 2 overall in 1980 and Dale Hawerchuk first overall the year after, he had the core around which he would build his team for the rest of the decade.
Geoff Kirbyson has been a journalist for more than 25 years, spending much of his career at the Winnipeg Free Press covering business and sports. He has written two books on the original Winnipeg Jets, The Hot Line and Broken Ribs & Popcorn.
Find Geoff's books CLICK HERE.
The Ed Sweeney Awards are given out annually for writing that contributes significantly to knowledge of Manitoba's hockey history. For more information, CLICK HERE.