2020 MBHHF Scholarship Recipients
The Manitoba Hockey Hall of Fame and Museum sponsors two awards including the Ken "Friar" Nicolson Award for a male high school hockey player and the Sami Jo Small Award for a female hockey player.  Nicolson was the broadcaster for CJOB Radio for the Winnipeg Jets, and was a tremendous supporter of high school hockey. Sami Jo Small was an outstanding athlete at College Jeanne Sauve in track and field and was MHSAA athlete of the year in 1993 and is a member of the MHSAA Hall of Fame. She went on to play for Canada's National Women's Hockey Team appearing in five Olympic Games and winning three gold medals.  Each recipient will receive a $1,000 scholarship.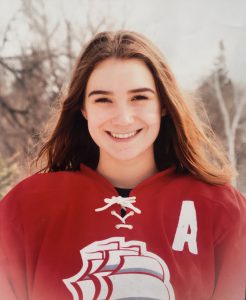 The Sami Jo Small Award was awarded to Corey "Coco" Diamond-Burchuk of Kelvin High School - Coco was team captain of her school's female hockey team this year. She was named player of the week in the CTV Division and a finalist for the Sports woman Award in the CTV Division of the WWHSHL. In addition to playing hockey for her school, she was also a member of the school's soccer, cross-country, and indoor and outdoor track teams. Coco is a grade 12 mentor, coordinated a gift drive for children in Gods Lake Narrows, a member of the Choral Cupids fundraiser, and holiday breakfast volunteer at the school. She participated as the lead in the school musical, Division honour choir, and is a volunteer at the Rehabilitation Centre for Children, Oakview Place Personal Care Home, and Winnipeg Pet Rescue Shelter. Coco does all of this and maintains a 90% academic average.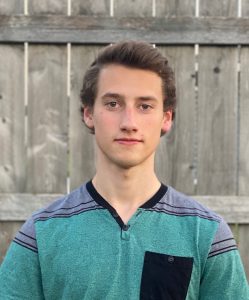 The recipient of the Ken "Friar" Nicolson Award is Bryson Loewen of W.C. Miller Collegiate -  Bryson was the captain of his hockey team, was named a Zone 4 league all-star and was presented the Lloyd C. Orchard Most Sportsmanlike Player Award. He is a member of his school's baseball, badminton, cross-country and track teams. Bryson is a lifeguard and swim instructor during the summer, a hockey academy pier tutor, helped coach a hockey skills club, and participated in the Curtis Klassen Memorial Fund Run. He helped put on a hockey camp at the beginning of the hockey season for local players and has spent over 40 hours coaching over two years. Bryson maintains an academic average of 95%.
The D'Arcy Bain/Fred Stevenson Award is named in honour of long- time hockey coach Fred Stevenson of St. John's Ravenscourt, and the $750 scholarship is sponsored by local physiotherapist D'Arcy Bain.
Liam Bachewich - Honour roll stu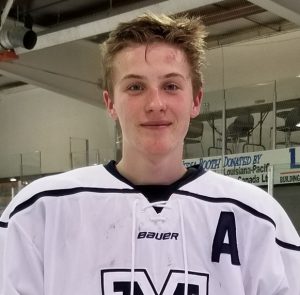 dent maintaining an academic average of 91.71%. He has been the assistant captain of his hockey team for two years and was second on the team in points for the regular season and lead in playoff points. He was also the captain of his volleyball team, was on the basketball and badminton teams and was awarded a leadership and athleticism award for baseball. Liam represented his school as the Zone 7 golf rep. He is a member of the student council, grad committee, GSA associate, tutor, and is a Hockey Manitoba level three official. He was a baseball and hockey coach and delivered Christmas Cheer hampers and worked in the canteen.