2019 MHSAA Scholarship Winners
Manitoba Hockey Hall of Fame President Don Kuryk and Board Director Jan Brown were on hand to present the 2019 Manitoba High School Athletic Association scholarships;

The Manitoba Hockey Hall of Fame and Museum sponsors two awards, the Ken "Friar" Nicolson Award for a male high school hockey player and the Sami Jo Small Award for a female high school hockey player. Nicolson was the broadcaster for CJOB Radio for the Winnipeg Jets, and was a tremendous supporter of high school hockey. Sami Jo Small was an outstanding athlete at College Jeanne Sauv? in track and field and was the MHSAA's athlete of the year in 1993 and is a member of the MHSAA's High School Sports Hall of Fame. Sami went on to play for Canada's National Women's Hockey Team appearing in five Olympic Games, winning three gold medals. Each recipient will receive a $1000 scholarship.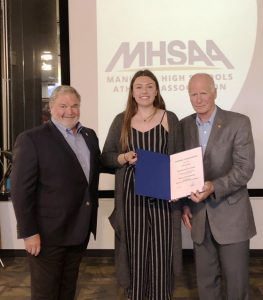 The Sami Jo Small Award goes to Camryn Gillis of Miles Macdonell Collegiate. Camryn maintains a 93% academic average and was named an Athlete of the Month. She helped her team to first place in the B Division of the Winnipeg Women's High School Hockey League. Camryn was also the assistant captain of the Winnipeg Avros AAA Hockey team. She is the Editor of the school's yearbook and Senior Leader for the MMC Literary Magazine. She has assisted at Bantam A1 practices and is a Hockey Manitoba Girls Goalie Camp volunteer. She volunteers with the school's Orphanage Committee, Christmas Child Boxes and with the John Henderson Leadership program.
The recipient of the Ken "Friar" Nicolson Award goes to Braden Hildebrand of W.C. Miller Collegiate.
Braden was team captain of the school's hockey team and was a member of the all-star team. He helped lead his team to a Zone 4 Championship and an appearance in the high school hockey Provincials. Braden participates in baseball, volleyball, badminton and track & field, all while maintaining a 96% academic average. Braden also worked as a lifeguard and swim instructor at the local aquatic center and works with a student with osteogenesis imperfecta. Braden assists with a hockey skills club and peer tutored a hockey class for grade 9, 10, and 11 student athletes.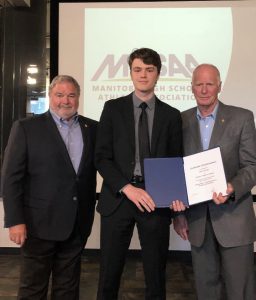 The D'Arcy Bain/Fred Stevenson Award is named in honour of long-time hockey coach Fred Stevenson of St. John's Ravenscourt, and the $750 scholarship is sponsored by local physiotherapist D'Arcy Bain.

 Ethan Yewdall of College Sturgeon Heights Collegiate. Ethan is an honour roll student and maintains an academic average of 96%. He is the team captain, a WHSHL all-star, a recipient of the Dave Hill Scholarship and the Travis Price Hockey Spirit Scholarship two years in a row. Ethan has participated in fundraising for "Sam's Christmas" at the school, which provides families in need, in addition to numerous other fundraising events. He time keeps for St. Mary's Academy's Female World Sport School Challenge tournaments and Jackrabbits hockey programs at the local community centre.