2017 R. A. "Sam" Fabro Scholarship Women's Hockey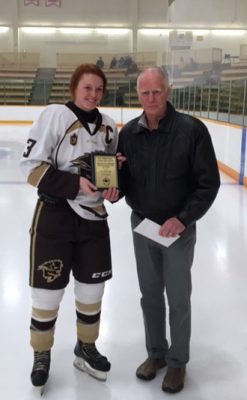 The 2017 recipient of the R. A. "Sam" Fabro scholarship is Caitlin Fyten, Captain of the 2017-18 UofM Bison women's team. "Caitlin is a strong leader and well respected with a strong voice in the dressing room," stated Bison women's hockey head coach Jon Rempel.  "Erica leads by example and has been a hard worker throughout her Bison career". Fyten, 22, is in her fifth season, second as team captain, after being an alternate captain in 2015-16.
In the 2016-17 season Caitlin had sixteen points (one goal, fifteen assists) while sixth on the team with 46 shots. In four seasons at Manitoba, the 5'7" defenceman from Cremora, AB has accumulated 37 points (7g, 30a) in 114 conference regular season games.