2017 R. A. "Sam" Fabro Scholarship Men's Hockey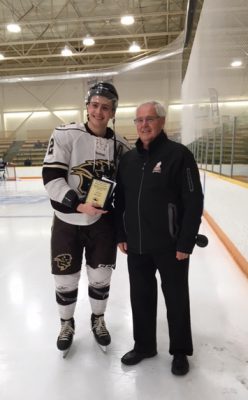 Adam Henry of the UofM Bisons is the 2017 recipient of the R. A. "Sam" Fabro scholarship. Adam is entering his 3rd season with the Bisons, previously having played for the Saskatoon Blades and Portland Winterhawks of the WHL.
He was a Canada West "All Rookie" team winner in his first season and followed this with an outstanding sophomore season in 2016/17. Adam is an outstanding defenseman who enters this season having played 54 games for the Bison. He has accumulated 29 points (8 goals, 21 assists) in his 2 years with the team.
Adam is enrolled in the Asper School of Business and is an Academic All Canadian. He is one of our important team leaders, serving as Assistant Captain and is very involved in the team's community service initiatives.