100 Years Ago - 1921 Memorial Cup Champion Winnipeg Junior Falcons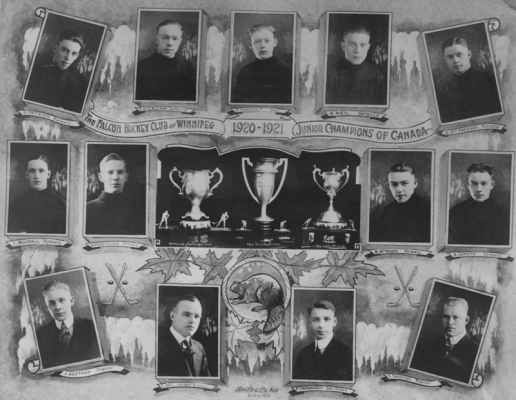 After winning the Manitoba Junior crown, the Winnipeg Jr Falcons claimed the Hickory Abbott Memorial Trophy as Western Canadian Junior Hockey Champions with an 8-4 two-game total point series win over the Regina Vics. Next up, the Fort William YMCA club offered little in resistance as the speedy Falcons breezed through with a 13 goal cushion 20-7 in two games.
They had earned a date in the Canadian Junior hockey Memorial Cup championship in Toronto's Arena Gardens against the OHA champion  Stratford Midget team that featured one of hockey's future greats, Howie Morenz.
On March 24th, 1921 Wally F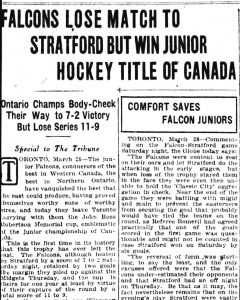 ridfinnson kept Morenz in check while chipping in a hat trick and the Falcons took game one of the two-game total point series, 9-2. The speedy Falcons received stellar goaltending from Scotty Comfort along with an air-tight defence to smother the over-confident Stratford team.
Two days later, on March 26, 1921 Stratford would rebound behind a Morenz hat-trick in the second game, to win 7-2, but fell short of besting Winnipeg. The Falcons had hung on behind Comfort's play to hoist the first Memorial cup title ever for Western Canada with an aggregate score of 11-9.
1931 Elmwood Millionaires:
George Brown, Archie Creighton, Albert "Spunk" Duncanson, Boyd Johnston, Kitson Massey, Bill MacKenzie (captain), Gordie MacKenzie, Don "Duke" McDonald, Art Rice- Jones, Cliff Workman, Norm Yellowlees, Jack Hughes (coach), Earl Adam (manager).