MANITOBA HOCKEY: AN ORAL HISTORY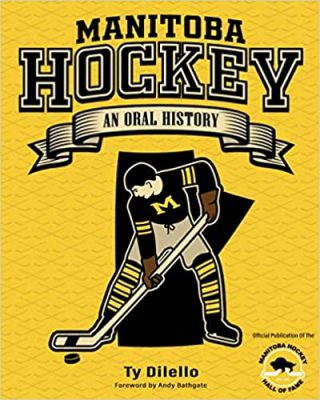 As Manitoba celebrates its 150th birthday in 2020, it's another great chance to reflect on the exquisite hockey history that the keystone province possesses. In "Manitoba Hockey: An Oral History", hear stories directly from the players that helped shape the great game of hockey from the beginning of the sport to the present day. "
After having penned 'Golden Boys: The Top 50 Manitoba Hockey Players of All Time' in 2017, prolific author and hockey historian Ty Dilello has returned with another deep dive into Manitoba's hockey history. 'Manitoba Hockey: An Oral History' shines a spotlight on more luminaries from the province's proud hockey past, including a few members of the Hockey Hall of Fame, a few Stanley Cup winners, and a few Memorial Cup winners ... all of them with two things in common ... a story of a Hockey life well lived and their connection to the great province of Manitoba.
Thanks to his trademark research and writing, Dilello has crafted a rich tribute to these men and their accomplishments, both on and off the ice." - Todd Denault, author of Jacques Plante: The Man Who Changed The Face of Hockey"The stories Ty Dilello collects in 'Manitoba Hockey: An Oral History' will resonate whether you're from Winnipeg or Washington.
Through tireless research and unique interviews, he brings both famous names and forgotten stars to life with flair." - Greg Oliver, author of Father Bauer And The Great Experiment: The Genesis of Canadian Olympic Hockey."As a follow up to 2017's Golden Boys, Ty Dilello has added a couple of dozen more stories and interviews to his already comprehensive review of the history of hockey in Manitoba. 'Manitoba Hockey: An Oral History' is a well-written, thoroughly researched book that is a must-read for both casual fans and students of the game." - George Grimm, author of We Did Everything But Win.
"Manitoba Hockey: An Oral History" book I wrote is now available on Amazon here: