What could have been ...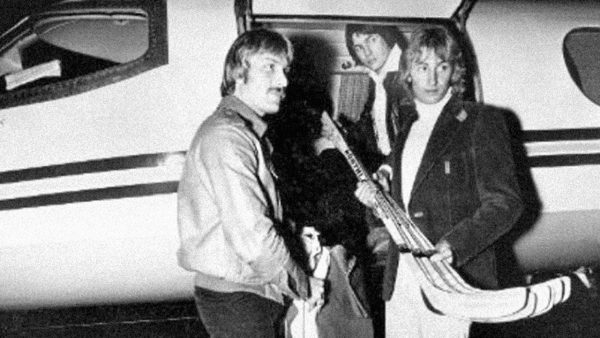 Michael Gobuty was inducted into the Manitoba Hockey Hall of Fame in October, 2017. A second generation garment manufacturer, Gobuty had joined a group of local business owners in 1978 to save the World Hockey Association's Winnipeg Jets from extinction by purchasing the then-troubled franchise. Gobuty led the group as the team's President and Governor, orchestrating many defining moments in Winnipeg Jets history. 
Gobuty did his best while in Winnipeg for the Hall of Fame dinner to dispel the myth of losing Gretzky in a backgammon game. The truth behind the story is that it was another Manitoba Hockey Hall of Fame member, Rudy Pilous that caused one of hockeys greatest miscalls.
Nelson Skalbania was the maverick owner of the Indianapolis Pacers of the World Hockey Association. The Pacers were not doing well at the box office and Skalbania was planning on folding the team and selling off his assets. One of those assets was a talented 17 year old player by the name of Wayne Gretzky whom Skalbania had recently signed to a personal services contract.
Shortly after the evening game of October 28, 1978, Skalbania boarded a plane in Indianapolis headed for Winnipeg, Manitoba. It was Winnipeg Jets owner Michael Gobuty's private plane, and Gobuty was on board. A deal had been set, Skalbania was selling Gretzky to Gobuty for $250,000. Gretzky and two other players, goalie Eddie Mio and forward Peter Driscoll were on a separate jet under the impression they were headed to Winnipeg.
Skalbania's pal, Peter Pocklington owned the Edmonton Oilers and they too were interested in the Pacer players. Ironically, Oiler GM Glen Sather immediate interest was in Mio and Driscoll, rather than Gretzky. Gretzky's slight physical appearance defied the hockey stereotype and despite recording 6 pts in 8 games he was still a bit of an unknown as a pro.
Skalbania's deal was with Gobuty however, and Gobuty was offering cash while Pocklington liked to barter with art and automobiles. Gobuty would not finalize the deal though until he'd spoken with his General Manager Pilous who was waiting in Winnipeg. Noting this, Skalbania challenged Gobuty to a backgammon game. If Skalbania won, he could offer Gretzky guilt-free to the Edmonton Oilers for a higher price should Winnipeg pass on the deal. They played and Skalbania won the game.
The trip would end with Gobuty's plane landing in Winnipeg and meeting up with Pilous to gain his endorsement and blessing of the deal. Gretzky would be a Jet the next day. Pilous awaited near the tarmac when the two owners landed.
Pilous didn't think so much of the kid.~Gretzky was young, too skinny, and had very little experience to play at such a level." Pilous said "Pay that much frigging money per year for an 18-year-old kid when I never made that much in total for my whole career. No, you are crazy?"  
Gobuty would never question his GM's decision when it came to matters of hockey. The deal was off and Skalbania quickly called Pocklington. Shortly after, the jet carrying the players was radioed to divert to Edmonton.
Gobuty would go on to orchestrate the 1979 NHL-WHA merger playing a key part in the effort to bring peace to the hockey world. He was a leader in the negotiations to move the Jets and the best of the WHA surviving teams into the NHL. He was able to accomplish this through his relationships with NHL hardliners and anti-WHA owners Harold Ballard of Toronto and Bill Wirtz from Chicago.
"As the President of the WHA, I can confirm that without Michael Gobuty's tireless work the merger with the NHL would not have happened," said former NHL owner and Board of Governors member Howard Baldwin. At the time of the merger Baldwin was the owner of the New England Whalers. "Michael's business sense and diplomacy helped bring peace to the warring factions, but more importantly, he made sure that professional hockey remained in Winnipeg when it could have been gone."
As for the skinny kid? Well, he developed into the greatest hockey player of all time while leading the Edmonton Oilers to four Stanley Cups.
Ahhh Winnipeg, what could have been ...