Fabro, R. A. "Sam"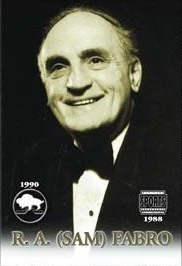 Date of Death: 2018-01-02Date of Birth: 1920-12-08
Born in Udine, Italy, "Sam" Fabro played with the 1941 Winnipeg Rangers, the Memorial Cup champions. He was one of the founders of Manitoba Hockey Players Foundation in 1967 and its first Chairman. He was a leader in the creation of the Hockey Hall of Fame & Museum in 1985.
In addition to his many accomplishments in hockey, he spent the 1942 season as wingback with the Winnipeg Blue Bombers before joining the army. He was part of several organizational efforts, including chairman of baseball 1967 PanAm games, chairman/director of Winnipeg Enterprises Corporation (1967-1983) and Chair of the 1974 Winter and 1978 Summer Manitoba Games. Fabro was a co-founder of the Manitoba Marathon and Canoe-athon and served time as Chair of the Manitoba Sports Hall of Fame.
Ronald A. "Sam" Fabro was admitted to the Order of Canada in 1975 and inducted into Winnipeg's Citizens Hall of Fame in 2013.