Kerr, Gordon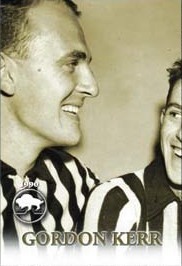 Date of Death: 2006-12-22Date of Birth: 1932-05-12Date of Induction: 1990
Born in Winnipeg, as a player Gord played junior for the Winnipeg Canadians turning pro with Seattle of the Pacific Coast Hockey League (PCHL).
Retiring as a player after the 1963 season, Gord took to refereeing. For almost 30 years Gord Kerr was referee-in-chief for the MAHA and also served as the MJHL top official. He officiated in both the WHA and Western Hockey League and was selected as a referee for World Hockey Championships three times and for the Olympics twice.
He officiated in the Allan, Memorial and Centennial Cup playoffs.