Van Hellemond, Andy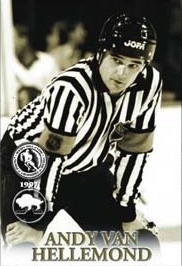 Date of Birth: 1948-02-16Date of Induction: 1992* Honoured Member of the Hockey Hall of Fame
Born in Winnipeg, Van Hellemond's hockey career as a player began in Winnipeg's Isaac Brock area. He spent three seasons in the MJHL and was a member of the 1967- 68 MJHL Champions, St. James Canadians.
After junior, Andy began to officiate in various Manitoba leagues eventually moving on to the WCJHL. In 1972 he became an official in the NHL. After 25 years as a referee in the NHL, he holds the record for most regular season games (1,474), playoff games (211) and Stanley Cup appearances (19).
Andy was the Senior Vice-President and Director of Operations for the East Coast Hockey League and has served in senior officiating positions for the NHL.