Lee, Allan (Butch)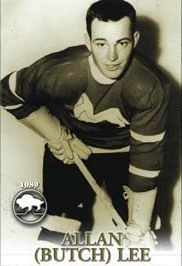 Date of Death: 2021-7-19Date of Birth: 1929-10-28
Born in Pierson, Manitoba, this defenceman spent 28 seasons with the Pierson Bruins Intermediate team serving stints as Captain and/or Coach.
A South West Hockey League (SWHL) MVP 5 times and a league All-Star 18 times, he played on 7 league champions, won 2 Provincial "C" crowns and 3 "B" titles.
Already Provincial "B" winners in 1959/60, Pierson defeated "A" champs from Russell, then lost a close series with "AA" Dauphin who went on to win the Western Canada championship.
A successful minor coach, "Butch" Lee took Pierson to 8 league titles and Provincial titles 2 of 3 years that they were eligible. He also played for the 1956/57 English League champion Wembley Lions.