The Manitoba Hockey Hall of Fame and Museum was established in 1985 when the first Honoured members were named and plaques were erected in their honour.
The first group of inductees was large in order to recognize the accomplishments of Manitoba players, coaches, builders and teams at the international, national, provincial and local levels for many, many years. Induction ceremonies were held on an annual or bi-annual basis through 1993. Since 1995, the Manitoba Hockey Hall of Fame and Museum has added to its Honour Roll every second year.
The Manitoba Hockey Hall of Fame and Museum is located on the second floor of the Bell/MTS IcePlex just west of the Perimeter Highway off 3969 Portage Avenue. An interactive display celebrates the history of hockey in Manitoba and the many successes of the Players, Coaches, Officials, Builders, Teams & Media.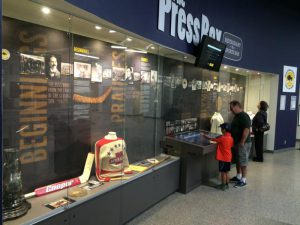 The museum display includes a tribute to hockey's beginnings in the province, along with panels showcasing the game's growth on the Prairies, Olympic and World successes and the Province's long history in professional leagues.
The walls of the IcePlex feature plaques in the Honoured Members Galleries. The Wall of Champions Gallery acknowledges the many Manitoba teams that have won national and international titles. The Roll of Honour Gallery celebrates Manitoba teams that have excelled. Until it was relocated to its new location, the Manitoba Hockey Hall of Fame and Museum was housed in the MTS Centre.
Designed and developed by Pattern Interactive, the Manitoba Hockey Hall of Fame interactive display and Honoured Members plaques Gallery was created with the generous support of True North Sports & Entertainment, Province of Manitoba Heritage Grants Program and the Winnipeg Foundation.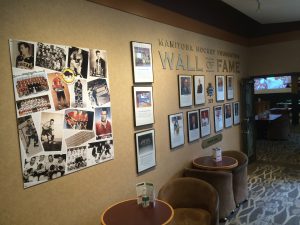 The Manitoba Hockey Hall of Fame also maintains a Wall of Fame photo gallery in the CanadInns Polo Park in Winnipeg.
The Manitoba Hockey Hall of Fame gratefully acknowledges True North Sports and Entertainment and CanadInns for their support.
If you are planning on visiting the Manitoba Hockey Hall of Fame display at the Bell/MTS IcePlex, please check the IcePlex website at: www.bellmtsiceplex.ca for their hours of operation.
The Hockey Hall of Fame is a not-for-profit organization and a Registered Charity under the Income Tax Act
Membership
Manitoba Hockey Hall of Fame Patrons
Membership is open to all who are interested in promoting the goals and objectives of the Manitoba Hockey Hall of Fame. Any person can become a patron of the hall with a donation of $100. We encourage you to support the rich heritage of hockey in Manitoba!
Become a Patron Today