Loughlin, Clem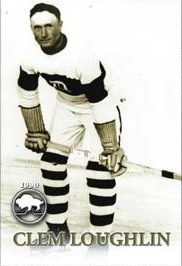 Date of Death: 1977-02-08Date of Birth: 1894-11-15
Born in Carroll, Manitoba, this defenceman won the 1915 Allan Cup playing with the Winnipeg Monarchs.
Loughlin turned professional with the Portland Rosebuds of the PCHA in 1916. He would continue playing in the PCHL and WCHL, winning a Stanley Cup in 1924/25 when the Victoria Cougars beat the Montreal Canadiens 3 games to 1, outscoring them 16 to 8. After the 1925/26 season, the West Coast League disbanded and their players were sold to Chicago, Detroit and New York.
The Victoria club was sold to the NHL expansion Detroit Cougars team. After two seasons in Detroit and another in Chicago he would settle into the minor leagues, returning to the NHL as a coach when he was hired to run the Chicago Blackhawks from 1934-37. Loughlin later settled in Viking, Alberta, to manage a hotel.